What is a Machine Learning Bootcamp?
A machine learning bootcamp is an intensive, short-term program that provides training in programming. Machine learning bootcamps are an inexpensive and shorter alternative to a college degree.
In recent years, machine learning bootcamp has become more popular due to their high placement rates. Most bootcamps are practice-oriented and provide professional advice to help you start a career in tech.
The 8 Best Machine Learning Bootcamp of 2021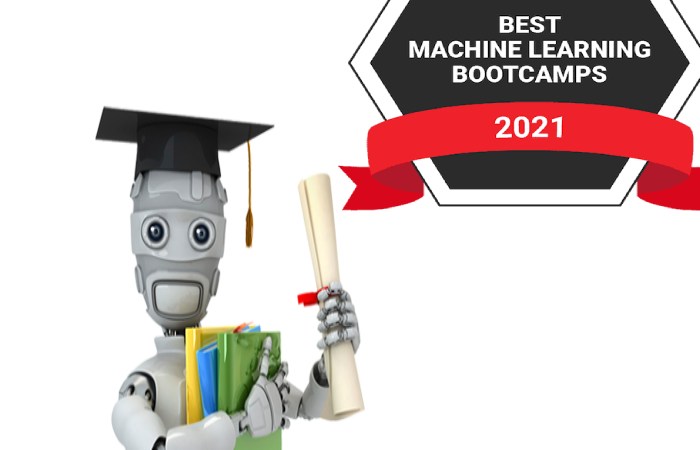 These machine learning bootcamps offer different specializations, funding methods, and timelines. We round up eight of the most relevant machine learning bootcamps to help you choose the one that's right for you. Some have different in-person sites, some are online boot camps, and some are entirely free.
1. BrainStation
Locations: New York, London, Vancouver, Toronto, Miami, online
Types of programs: full-time, part-time, flexible
In its Certified Machine Learning course, BrainStation teaches the fundamentals of machine learning systems and data science. This course will contribute to your understanding of how machine learning works and how you can use it to make data-driven choices.
Before preliminary the course, you should have a basic understanding of math concepts and programming. Having skills in algebra or calculus will help you understand the complex principles of computer science.
BrainStation Financing Options
There are four funding methods available on BrainStation: upfront fee, monthly fee, scholarship, or employer reimbursement. The school offers scholarships to a few students from each cohort, so you must apply for one upon your request.
BrainStation is unique in that you can work with your employer to pay for your education. This makes it an excellent option for people who are changing careers or want to expand their skills.
2. Codesmith
Locations: New York, Los Angeles, Online
Types of programs: full-time
Codesmith offers a course that teaches full-stack software engineering with a machine-learning approach. It will also teach you other fundamentals of computing. This program is immersive, which means that you will get advanced software engineering skills even if you are a beginner.
The program lasts approximately 12 weeks, and you will devote about 70 hours per week to the course. During this time, you will also receive professional advice and networking opportunities.
Codesmith Financing Options
In this Codesmith program, you will have three financing options: prepayment, monthly payments, and private loans. If you decide to pay in advance, you will need to reserve your spot with a deposit of $ 2,400.
The monthly payments divide into four installments. Pay $ 2,500 on the 1st day of class, then pay three costs of $ 4,800. You can also get an advance with SkillsFund, which offers two payment options. You can pay during and after your course or start paying three months after graduation.
3. Flatiron School
Locations: Online
Program types: full-time, part-time, flexible
This in-depth data science and machine learning sequence from Flatiron School is a great immersion option. You will study deep learning and linear regression while learning about Python and SQL. You will complete an advanced data science project upon completion of the program.
This course has three agendas: part-time, full-time, and at your own pace. This means that it is compatible with people who change careers and people who are currently working. Flatiron School also offers a Career Orientation module to prepare you for your job search and possible interviews.
Flatiron School Financing Options
The three financing methods Flatiron School offers for this program are loan financing, monthly installments, and a down payment. Whichever choice you choose, you still have to pay a $ 500 deposit fee.
If you opt for monthly installments, you will pay your tuition in 12 months. With loan financing, on the other hand, you will pay regular tuition fees plus attention. SkillsFund and Climb work with Flatiron School to make loans.
4. Galvanize
Locations: San Francisco, online
Types of programs: full time
Galvanize's full-time immersive data science package will give you a deep dive into the fundamentals of machine learning. You will learn about natural language processing, Python, data visualization, and data analysis. This course is a mix of training in programming and basic math concepts.
The online course lasts approximately 13 weeks, and its schedule is full-time. You will ask to study Monday through Friday from 8:30 a.m. to 5:30 p.m. While this is an outstanding commitment, full-time bootcamps are the most effective way to absorb new knowledge.
Galvanized Financing Options
Galvanize offers four financing methods, namely Down Payment, Scholarships, ISA, and Loans. If you can pay in advance, the total cost of tuition is $ 17,980. With the ISA method, you pay nothing until you get a job in technology.
Galvanize also offers coding bootcamp scholarships to some students from each group. To be eligible, you must be part of an underrepresented community in the tech industry.
5. Lambda School
Locations: Online
Types of programs: full-time, part-time
The data science course obtainable by Lambda School will provide you with all the tools you need to start a career as a data scientist or data analyst. You will learn about machine learning with Python and SQL. You will also learn the fundamentals of data science, such as linear regression, natural language processing, statistics, and data visualization.
And also, you can take this course part-time or full-time. The length of the program will depend on the option you choose. This is a decent choice if you poverty an immersive online data science course.
Lambda Schools Financing Options
You have three financing options with Lambda School: advance payment, fees, and ISA. Lambda is known for its income-sharing plan, which limits your price to $ 30,000. You pay nonentity until you have a job and earn $ 50,000 a year.
6. MIT Vocational Training
Locations: Cambridge, online
Types of programs: full-time, part-time
Although not technically a boot camp, this professional certificate in machine learning and artificial intelligence is the best option. The MIT Professional Education modular curriculum consists of several two- to three-day machine learning courses. You will learn about the basics of data science, software engineering practices, and AI-powered systems.
To qualify for the certificate, you only need to attend 16 days of boot camp-style classes, roughly the equivalent of four types.
MIT Vocational Training Financing Options
Since this course is divided into several classes, you must pay for each one individually. There are different types of methods, from introductory to advanced, and they all have different prices. For each class, you must pay a non-refundable registration fee of $ 325.
7. Trampoline
Locations: Online
Types of programs: full-time, part-time
Springboard's six-month machine learning course will assist you in developing AA engineering skills. You will learn about deep learning, linear and logistic regression, prototyping and implementing an ML-based application, and more. Springboard also has job assurance and offers professional services to be successful in the field.
Unlike other bootcamps, this one requires some programming experience. Must have one year of data science or software engineering experience. You can also arrive with a master's degree in data science, marketing budget, or an equivalent.
Springboard Financing Options
There are four options for paying Springboard tuition fees. If you pay in advance, you will get an 11% discount. If you can't pay right away, this machine learning bootcamp also offers deferred tuition fees. It's like an ISA but uses a fixed rate instead.
Springboard is also partnering with Climb to help you get a loan. Finally, you can pay your tuition fees in monthly installments.
8. Reflexive
Locations: Online
Types of programs: full-time, flexible
Thinkful offers a five-month data science course that combines mathematical principles and technical knowledge. You will study the basics of statistics and learn programming languages such as SQL and Python. The program also delves into the fundamentals of machine learning.
Everything you learn design to be actionable in the real world. Thinkful teachers will advise you on your portfolio and lead you through your job search process to prepare you for employment.
Reflexive Financing Options
Thinkful offers several financing options, including prepayment, loan financing, monthly payments, and deferred tuition fees. The difference between deferred tuition fees and ISAs is that the first option requires you to pay a fixed fee once you find a job. With an ISA, you will pay a percentage of your future salary.
Thinkful's loan partners are Climb and Ascent Funding. They offer different payment methods, but with any of the lenders, you can end up paying around $ 20,000 after interest.
Machine Learning Bootcamp Job Opportunities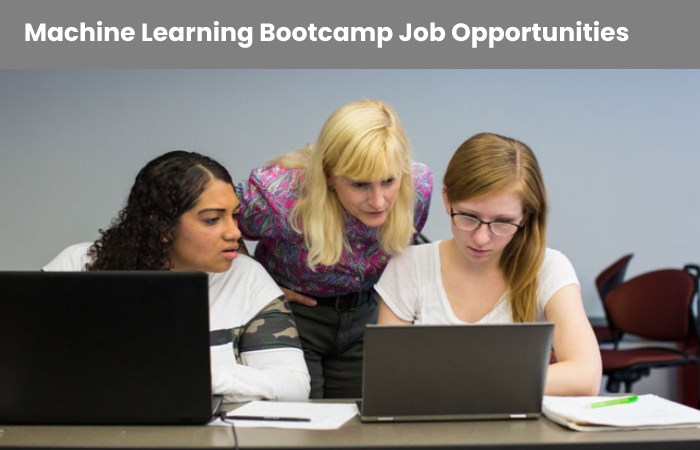 Having machine learning skills can assist you in landing a diversity of jobs in different fields. You can work in nearly any industry, from healthcare to automotive to banking. Below are some of the most suitable career options that require machine learning skills.
1. Machine Learning Engineer
Machine learning engineering is a combination of software engineering and data science. You will develop applications and programs using machine learning. These agendas will be able to identify patterns and trends based on your orders.
According to PayScale, the average salary for a machine learning engineer is $ 112,691. According to the United States Bureau of Labor Statistics, the demand for machine learning engineers expects to increase by 2026. If you like machine learning, this is an obvious career option.
2. Data Analyst
With machine learning skills, you can also develop a data analyst. A data analyst collects and analyzes datasets to find valuable information for better decision-making. This is a good option if you value the data side of machine learning.
According to PayScale, the average salary for a data analyst is $ 61,122. The World Economic Forum estimates that the request for these professionals is growing. If you enjoy working with data, you should become a data analyst in 2021.
3. Business Analyst
In an organization, business analysts make a bridge between IT and business departments. A business analyst examines a company's data to provide recommendations based on the data. This helps improve crops and services by analyzing business performance and trends.
According to the BLS, this occupation expects to grow by 21% by 2024. The regular salary for a business analyst is $ 68,346, according to Flexjobs. If you are a machine learning expert, this job is for you.
4. Digital Marketing Manager
Digital marketers help lead the marketing processes in a company. They monitor marketing performance and make sure their team thrives. This is a decent choice if you have creative and leadership skills, as well as technical skills.
Digital marketers help lead a creative team, but they also analyze data and find helpful information. This is why having machine learning skills will help you land a job as a digital marketing manager.
Why should you Sign up for a Machine Learning Bootcamp?
Machine learning bootcamps are an intensive, short-term, and inexpensive alternative to formal education. While all career paths can be successful, earning a bachelor's degree in computer science or data science isn't for everyone.
Also Read: What is 6G? – When will Come out, Applications, and More
Related Searches to Machine Learning Bootcamp
[machine learning bootcamp]
[DataCamp]
[BrainStation]
[Lambda School]
[Flatiron School]
[Data Science Dojo]
[Codesmith]
[machine learning bootcamp google]
[machine learning bootcamp India]
[machine learning bootcamp udemy]
[MIT Vocational Training]
[machine learning bootcamp job guarantee]
[data science bootcamp]
[machine learning bootcamp reddit]
[python-for-data science-and-machine learning-bootcamp github]
[ai bootcamp Stanford]
[data science bootcamp in India]
[data science bootcamp cost]
[data science bootcamp meaning]
[data science bootcamp Indonesia]
[BrainStation]
[data science bootcamp free]
[data science bootcamp UK]
[summer data science bootcamp]
[best data science bootcamps 2021]