Associate Degree in Web Design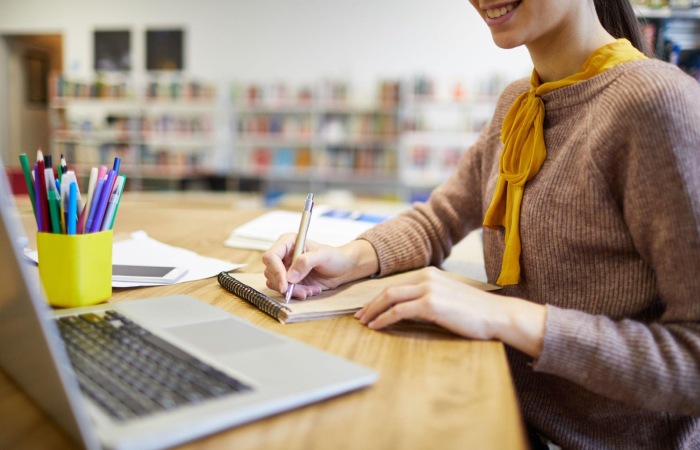 An associate degree in web design program prepares students to design, develop, and maintain high-quality professional websites, create digital media, and integrate web technologies to meet the needs of an organization.
Graduates will master HTML, CSS, JavaScript, jQuery, content management systems, user experience design, web marketing/branding strategy, and various supporting technologies and tools. And also, graduates will be able to meet the web design needs of companies in multiple industries or work as freelance web designers.
Top 10 Cheapest Online Associate Degree in Web Design
Web development is a fascinating field. For one thing, it's easier than ever for the average person to create a functional website. On the other hand, high-end web development is more complex than ever and continues to get more complex as technological innovation increases. This makes web development a fantastic field with a great future.
An online associate degree in web development offers one of the highest returns on investment of any associate degree. With the median salary for web developers well above $60,000 a year, they earn far more than many professionals who must earn a master's degree or higher in their field. And also, Web development is also one of the most accessible STEM professions, with entry-level jobs requiring only an associate's degree in most cases.
Our ranking of the top ten most affordable online associate degrees in web development features exceptional programs ranked by the estimated total cost of out-of-state tuition.
1. Cerro Coso Community College
Cerro Coso Community College is a fantastic option for anyone living in California. Tuition rates in the state are meager. This affordable online web design degree offers courses:
Digital Imaging, Web Development Fundamentals, Accessibility, and UX Design, Web Production Management, Computer Illustration, Digital Video Production, Advanced Web Development, Web Development with PHP, and MySQL, and web development with Python.
2. Stark State University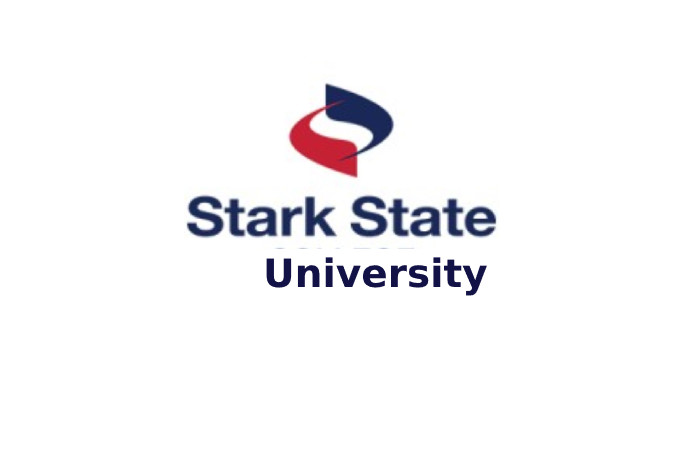 Stark State College offers an online web design degree and an online web design technical certificate. The certificate consists of ten courses in web design, and students can use it to earn their associate's degree if they so choose. And also, Courses include explorations in modern mathematics, data modelling and database design, content management system design and development, advanced CCS, advanced web design, and graphic web design.
3. Harrisburg Area Community College
This online degree in web design and development from Harrisburg Area Community College consists of 60 credits. Students in this low-cost online web development degree will take courses such as design basics, JavaScript programming, website publishing, and many more. And also, a capstone course is also required before graduation.
4. Mohave Community College
Mohave Community College offers several affordable online associate degrees in various computer science and computer science fields. The Computer Graphics and Web Design online Diploma is 65 credits. There is also a shorter Computer Graphics and Web Design online certificate for students who only want to take the courses directly related to the specialization. And also, the online Computer Graphics and Web Design degree can be completed in just 32 weeks of study.
5. Central Georgia Technical College
The minimum age for students to enter this program is 16, which means it is not just an affordable online web design associate degree but can also be used to get a two-year college jump. This program includes web development, web graphics, information security fundamentals, web technologies, analysis, and design. And also, management of IT projects, PHP programming, and computer programming web apps.
6. Lakeshore Technical College
This unique and affordable online degree in web and software development uses game development and simulations to teach programming principles, web application development, web design, mobile device development, and employment, independent and contractual. And also, Students will take courses such as Object-Oriented Programming, Mobile Device Development, Web Development I, II, and III, and Embedded Web Concepts.
Also Read: Commercial Loan Truerate Services
7. Riverland Community College
Riverland Community College's 100% Online Website Development Diploma will provide students with a comprehensive understanding of front-end and back-end development, as well as the skills necessary to serve as a webmaster, maintaining the day-to-day operations of a site website. And also, Students will take courses such as web page design, HTML and CSS, javascript and AJAX 3, social media campaigns, analytics and SEO, and an introduction to PHP and MySQL 3.
8. Southeastern Technical College
Southeastern Technical College is another affordable online web design degree program that allows students to enrol as young as 16, giving them a two-year head start on college. This program's students will take computer concepts, structured query language (SQL), scripting technologies, web development, web graphics, web animation and analysis, and design and management of IT projects.
9. Gateway Technical College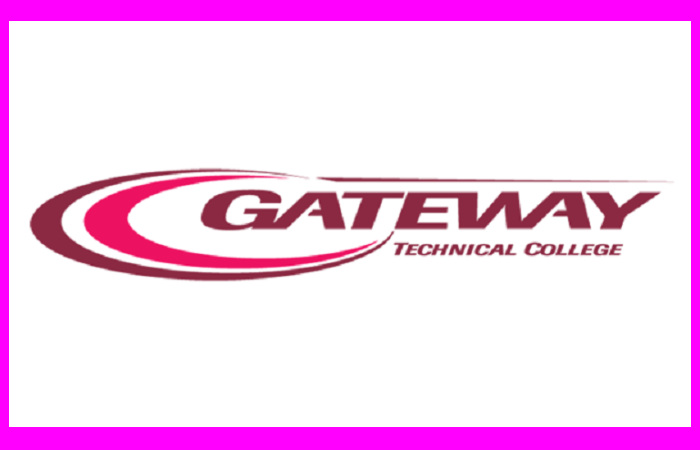 Gateway Technical College offers both an online web programmer degree and an online web software developer degree. The degree is a 28-credit program and requires students to take only courses related to web development. While the degree also requires general education credits. And also, the online web development degree includes courses such as web programming orientation, web programming, Java programming, javascript, advanced databases, PHP web programming, and ASP web application development. NET.
10. Northwest Georgia Technical College
This low-cost online associate in website design and development in northwest Georgia has seen graduates work as web developers, programmers, user interface designers, independent contractors, and web designers of mobile media. Students will take courses such as scripting technologies, web graphics, and an introduction to Oracle databases, to name three.
What will I Study in a web Design Associate Program?
Students pursuing an associate's degree in web design on campus. Or online learn about the intricate details of creating a website. In addition to graphic design programs like Adobe Photoshop and Illustrator. Students also immerse themselves in primary programming languages, including HTML, CSS, and Javascript.
Students learn to design a specific, functional, and easy-to-navigate website using formatted text, graphics, and hyperlinks. Courses also focus on effective communication and problem-solving skills that develop the collaborative approach needed in this profession.
Although courses vary by program, most offer similar courses leading to critical skills. Some of these courses include the basics of design, graphics, and animation for web and mobile, programming concepts, branding, and marketing.
Choosing the Right Web Development Associate Degree Program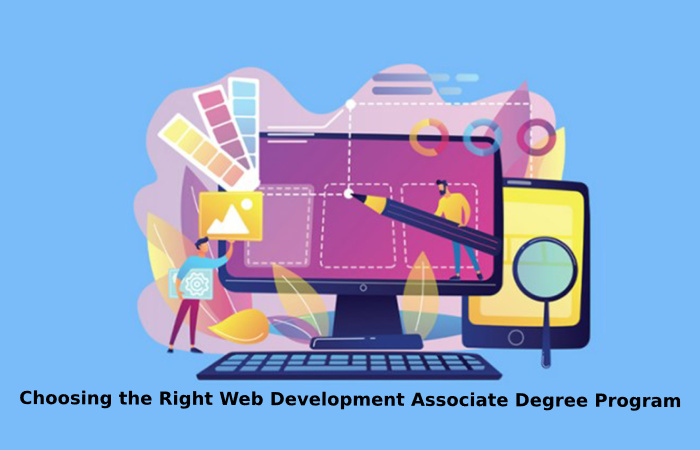 Searching for the right school requires careful investigation. Individuals pursuing a web development associate degree or web developer associate degree online should consider the subsequent factors:
Accreditation: Independent accrediting agencies guarantee that postsecondary institutions give high-quality academic instruction. Schools should hold a local certification. For example, top associates degree in web design or associate programs in web development maintain ABET accreditation.
Program Length: Most web developer associate programs or web developer associates degrees take two years to complete, but many schools tender accelerated tracks to assist students in finishing their degrees more quickly. Alternatively, some students may prefer to study part-time to equilibrium work and family obligations.
Future Education Opportunities: As associate graduates can immediately pursue service, they may finally seek bachelor's degrees in web development, web design associate degree, or other similar fields. Several schools offer immediate acceptance or waive some admittance requirements for applicants with associate degrees who meet GPA requirements.
What can I do with Associate Degree in Web Design?
Alumnae with an associate degree in web design work in various industries, including education, hospitality, finance, data processing, and computer design. They can work for gaming sites, online or media companies, small businesses, and large corporations.
Some graduates work specifically on mobile apps, while others specialize in a specific aspect of design. Designers with a flair for business and an independent streak often work as freelance consultants. And also, some students earn an advanced degree.
Frequently Asked Questions About Associate Degree in Web Design Programs
What is a Web Design Associate?
Students earning an associate's degree in web design learn the basic design principles necessary to build a website. And also, dissimilar web developers use coding languages ​​to create basic website structures. And also, designers use graphic design software to develop user-friendly and aesthetically pleasing websites.
How much does it price to get a Web Design Associate?
The cost of an associate's degree in web design varies by state of residence and school. Most programs range from $5,000 to $32,000 in total tuition. Some programs do not consider residency for online students. Many schools offer financial aid through scholarships, grants, and loans.
Is a Web Design Associate Worth it?
Yes. An on-campus or online associate's degree in web design qualifies graduates for entry-level web design and UX design positions. Some graduates use this degree to earn a bachelor's degree. Many programs also offer students the opportunity to build a portfolio, which improves job prospects.
What can you Perform with an Associate Degree in Web Design?
An associate's degree in web design paves the way for entry-level positions as web designers in small businesses and large corporations. Web designers also work in many industries, such as e-commerce, gaming, hospitality, finance, and marketing. Some graduates go on their own and work as freelancers.
What is the difference between an Associate Web Development and an Associate Web Design?
A web developer uses programming languages ​​to create the vision of a web designer. An associate's degree in web design teaches students. How to create a user-friendly website with graphic design software such as Adobe Photoshop and Illustrator. A student seeking an associate's degree in web development. Learns to work with coding languages ​​to build the basic structure of a website.
Also Read: What is the Correct Spelling for Sercummed?
Related Searches to Associate Degree in Web Design
[associate degree in web design]
[associate degree in web design and development]
[associates degree in web design]
[associate degree in web design salary]
[associate degree in web design and development employment]
[associate degree in web design jobs]
[associate degree in web design online]
[associate's degree in web design]
[associate's degree in web design entry level ux designer]
[associate's degree in web design santiago canyon]
[associate's degree of science in web design and development]
[associates degree in web design jjc]
[associates degree in web design reddit]
[associates degree of science in web design and development]
[how long to get associate's degree in web design]
[jobs for an associate degree in web design]
[jobs for an associate degree in web design and development]
[jobs for associate degree in web design]
[jobs for associate's degree in programming and web design]
[online associate degree in web design]
[should i get my associates degree in web design]
[vu associate degree in web design and development]